Top-rated BestOptionHomes Real Estate company In Greenville, SC. Actively serving Buyers and Sellers. BestOptionHomes is your expert real estate Solutions serving  South Carolina, North Carolina. and Tennessee BestOptionHomes. Call Us Today. Award-Winning Realtor. Free Home Evaluations.
Is there a different option to sell my house rather than using a Real Estate Agent or selling it myself? The answer to this question is, Yes! There are a lot of companies out there that specialize in buying homes, but Best Option Homes, LLC is one that you will be extremely happy with. We are a real estate solutions company that has been in business for many years, committed to helping each and every one of our customers.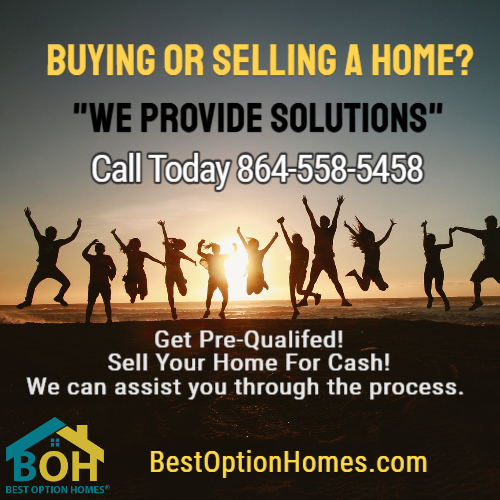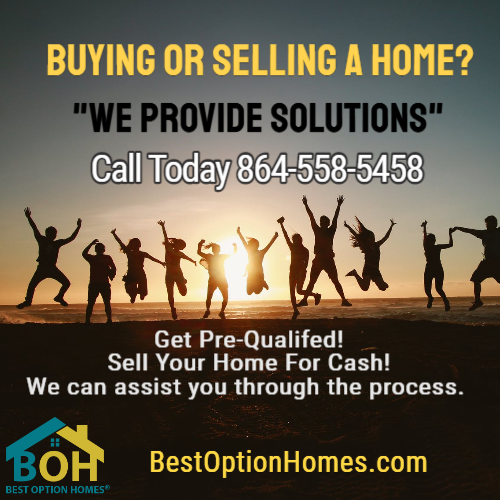 Best Option Homes has helped many homeowners in selling their homes and by doing this, we improve communities in every city we work in. We pride ourselves on rejuvenating neighborhoods and improving the quality of housing for everyone we help. Located in Greenville SC, we are your local real estate option to sell or buy your home. We also do business in North Carolina and Tennessee. Our goal is to re-develop single-family homes and get families into their own homes and out of paying landlords for renting. If you have a real estate problem, we are here to assist you, in any way we can. We will work with you one-on-one, this is our promise.
We can assist you with foreclosure avoidance, bankruptcy, short sales, divorce, out-of-state purchases, probate and inheritance, and many more issues related to buying or selling a home. Many of our homes we offer for sale are completely renovated and ready to move in! Our customer service is impeccable as we strive to keep good communication with our clients, getting back to them with a fast response. We believe that the customer's needs always come first. Whatever your real estate goals, we can help you achieve them. This might be your first home or perhaps you're upgrading from your current home, we can help!
Give us a call today and let's see how we can work together! @ 864-558-5458